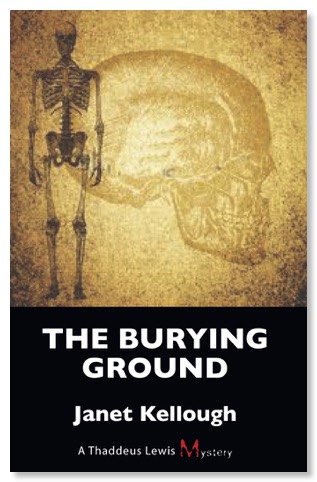 The Burying Ground- Thaddeus Lewis mystery # 4


Someone is digging up the graves at the Strangers' Burying Ground in Toronto - the final resting place of criminals, vagrants, indigents, and alcoholics - and the only person who seems to care is the sexton, Morgan Spicer. The authorities are unconcerned; after all, for years the growing village of Yorkville has been clamouring to have the bodies moved and the Burying Ground closed.

The distraught Spicer enlists the aid of his old friend Thaddeus Lewis, who has unexpectedly returned to preaching on the Yonge Street Circuit. The graveyard's secrets lead Lewis and his son Luke into the hidden heart of 1851 Toronto where they discover a trail of corruption and blackmail tied to an old sexual scandal and a dangerous enemy intent on vengeance.
"The Burying Ground"
A Thaddeus Lewis Mystery
Dundurn Press
ISBN 978-1-4597-2409
$11.99
£6.99

Praise for "The Burying Ground"
"In this engaging fourth installment of Kellough's Thaddeus Lewis Mystery series, the crime and intrigue in pre-confederation Canada continues. Situating the exploits of these endearing and surprisingly deep characters against the volatile backdrop of 19th-century Upper Canada, Kellough weaves a tale that is almost as much a history lesson as it is a thrill ride."

- Publisher's Weekly
"Kellough has merged two enjoyable genres, mystery or detective fiction and historical fiction, and added a splash of social justice–the sort that slides into the story neatly and without preaching. Lots of different story threads eventually braid together elegantly into an ending that satisfies deeply."

-Seattle Book Momma Blog, January, 2015
"…mid-19th-century Toronto is richly evoked, with its political and religious divisions, bouts of deadly illness, the beginnings of urban sprawl, and the reputed miracle cures of Irish-born "Holy Ann" (a real person). Americans in particular may appreciate seeing how their country's antebellum policies on slavery play out north of the border. Kellough also keeps readers on their toes by fleshing out her plot with unexpected turns throughout."

-Historical Novel Society, August 2015
"Fans of Chesterton's Father Brown or Anne Perry...will find this...much to their liking."

- Booklist


"
The Thaddeus Lewis mysteries are a unique find, guaranteed to satisfy lovers of historical fiction and mystery. Janet Kellough is a skilled writer, and The Burying Ground is an engrossing read. If you like historical fiction, you will greatly enjoy The Burying Ground, a novel that aptly combines mystery and Canadian history."
- The Mutt Cafe


"I loved it. The cool part of the story is the look at Toronto of mid-nineteenth century and reading about the prominent citizens of the day, whom we now know primarily as street names and places in and around Toronto. Society life and the comings and goings of criminals all add to this excellent mystery. You do not need to start at the beginning of the series to understand what is going on in Burying Ground as the author does a terrific job of filling in any holes you might have in your understanding of events in the earlier novels, but, the earlier books are around, and you'll want to read them all as soon as you finish this one."

- Sleuth of Baker Street: Merchant of Menace, October 2015


"This novel is a sequel to 47 Sorrows, in which Lavinia's husband is also the villain
.
It is well researched and provides a reliable picture of Toronto and of medical practice in the mid-nineteenth century. Most places and some of the characters are "real."
The references to anatomical pursuits are also credible and reflect the avid medical preoccupation of the time. The impoverished social conditions of Luke's patients clearly affect their health, and an outbreak of typhoid preoccupies him in his pre-germ theory world: why do some families get it and others do not?
Beyond the central mystery, Luke's homosexuality is perhaps the most intriguing part of this story. It gently evokes the painful dilemma of a young, accomplished person whose natural leanings oppose everything that he has been taught and whose longing to express them could ruin his entire life. He loves his father but makes assumptions about how he would react to revelations about himself and his lack of religious faith. Yet he finds sympathy and support in surprising places, challenging our views of nineteenth century attitudes. In that sense, his conflict and vulnerability replicate the social risks still prevalent today."

-NYU School of Medicine, LitMed Database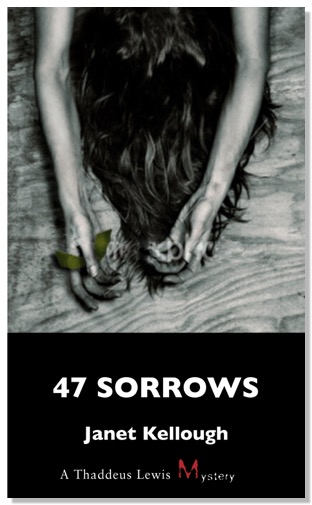 47 Sorrows- Thaddeus Lewis mystery # 3
The bloated corpse of a man dressed in women's clothing washes up on the shore of Lake Ontario near Thaddeus Lewis's home. Nothing is found on the body except a small scrap of green ribbon.
It's 1847 - "Black '47"- and 100,000 Irish immigrants are fleeing to Canada to escape starvation. The emigrants bring with them the dreaded "ship's fever", and soon Canadian ports are overflowing with the sick and dying.
Lewis's youngest son, Luke, volunteers in the dreaded fever sheds. He finds a green ribbon in the lifeless hand of a patient named John Porter. Luke uncovers a tale of enmity that began in Ireland, and enlists Thaddeus's aid in trying to discover what happened. Their search leads them to the heart of the criminal underworld of Toronto, where the final acts of vengeance play out against the tragedy occurring in the fever sheds.
"47 Sorrows"
A Thaddeus Lewis Mystery
Dundurn Press
ISBN 978-1-4597-0928-7
$11.99

£6.99

Praise for "47 Sorrows"

"Kellough embraces the history of her native Ontario, accepting the ugly facts along with the laudable ambitions of a few to improve a society divided by superstition, class and religion, a society that punished victims and rewarded exploiters. While Kellough takes some liberties with the actual history of Thaddeus Lewis to facilitate her tale, in grander matters she paints an accurately unsentimental picture of Victorian-era Ontario in a time of plague and disaster, eschewing narrative convenience for historical verisimilitude."
-Publishers Weekly



"Kellough competently transports the reader back to the days when transport between Southern Ontario towns was tedious, communication was worse, and the suffering Irish were struggling to make a place for themselves in 19th-century Canada."

-Historical Novel Review, May 2014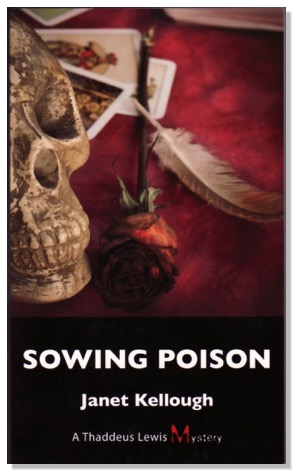 Sowing Poison- Thaddeus Lewis mystery # 2
After tracking down a serial killer in "On the Head of a Pin" Thaddeus Lewis untangles a twisted tale of murder, mystery & mysticism in the lakeside village of Wellington, Prince Edward County.
After an absence of many years, Nathan Elliott returns home - only to disappear again a few days later. Elliott's wife arrives & begins holding seances in her rooms at The Temperance Hotel, an activity Lewis finds offensive. His attempts to discredit her lead him to greed, spite, murder, Edgar Allan Poe and a wild boy who lives in The Great Sand Hills of Wellington.
"Sowing Poison"
A Thaddeus Lewis Mystery
Dundurn Press
ISBN 978-1-4597-0054-3
$11.99

£6.99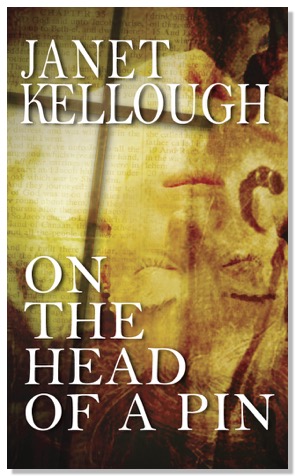 On The Head Of A Pin- Thaddeus Lewis mystery # 1
Thaddeus Lewis, an itinerant "saddlebag" preacher still mourns the mysterious death of his daughter Sarah as he rides to his new posting in Prince Edward County. When a girl in Demorestville dies in much the same way, he realizes that the circumstances point to murder, but in the turmoil following the 1837 Mackenzie Rebellion he can get no one to listen. Convinced there is a serial killer loose in Upper Canada, Lewis must track the culprit across a colony convulsed by dissension, invasion and fear of pirates on the St. Lawrence River. His only clues are the Book of Proverbs and a small painted pin...
"On the Head of a Pin" is loosely based on events related in "The Autobiography of Thaddeus Lewis" published in 1865. Drawing from Eastern Ontario's rich history, a tale of murder spins across the era of Patriot Hunter invasions and Pirate Bill Johnston, the Battle of the Windmill and the battle for responsible government. History and mystery meld in this gripping story of Upper Canadian murder.
A 2009 "Dewey Diva Pick"

"On the Head of a Pin"
A Castle Street Mystery
Dundurn Press
ISBN 978-1-55488-434-6
$11.95
£6.99


More praise for the Thaddeus Lewis Mysteries
"
On the Head of a Pin captivated us from the beginning. Janet did a great job of weaving her characters into a mystery that keeps you turning the pages...This is a four star selection, that will be loved by all mystery fans."

- Suspense Magazine


"This is a very atmospheric debut...that allows Kellough to make good use of the local landmarks and the area's rich and varied history...there are a lot of good ideas and good writing."

-Margaret Cannon
The Globe and Mail


"Kellough's book works on multiple levels; the murder mystery is woven into the larger story of Canada's wild, pre-Confederation. Scenes of Lewis acting out his religious beliefs invite emotional connection, and the novel's final chapters successfully mirror the arc of a Greek tragedy."

- Quill and Quire


"Readers will grow to like Thaddeus Lewis more and more as his character evolves into a thoughtful and sympathetic amateur detective. Kellough skillfully intermingles his adventures with historical facts to give us a real insight into the period and the district."

- Ann Pearson
ReviewingTheEvidence .com


"This is a tale that any fan of history and mystery will enjoy. It's deftly crafted by an imaginative author whose other books you will want to read."

- Anne K. Edwards
New Mystery Reader Magazine


"... it is hard to think of any crime fiction set in Canada's rich historical past. "On the Head of a Pin" by Janet Kellough is doubly welcome, since it is firmly historical and also extremely well done. This is a "good'un", highly recommended."

- www.whodunitcanada.com


"...As she puts the pieces of the crimes together, the author offers interesting insights into the role of religion in early Canada, the rivalry between various denominations and the prevailing distrust of American influence from across the border.
A good read made better by its obvious affection for its subject and the locale in which the action takes place."

-Harrowsmith Country Life


"Must Read - Janet Kellough has a reputation for bringing history to life in her native Prince Edward County. Kellough weaves a tale rich with historical detail and intrigue..."

- Watershed Magazine



"Set amidst the political and religious turmoil of Canada in 1844, Sowing Poison is the second in the Thaddeus Lewis mystery series. Nathan Elliott, the prodigal son of Wellington, returned briefly to Prince Edward County before being reported dead in an accident. The search for Nathan's body brings to town a series of unusual characters, the novelty of mesmerism and a cloud of suspicion that hovers over Nathan's widow. I'm a big fan of the Dundurn mysteries and this is a worthy addition to the series. The historical setting and issues are nicely integrated into the plot and the unorthodox solution is well-devised. I would recommend this novel for anyone who enjoys historical fiction."
-Bryan Prince Bookseller
Staff Pick