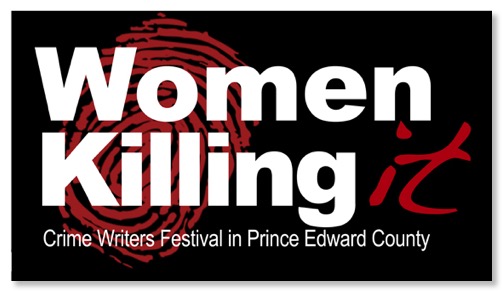 Welcome to Women Killing It Crime Writers' Festival in beautiful Prince Edward County, Ontario!

We'll shine a light on some of Canada's top women writers in the crime/mystery genre on Sept. 1st & 2nd. You can order tickets through Eventbrite at
http://www.eventbrite.ca/e/women-killing-it-crime-writers-festival-pec-tickets-31721746598 and please follow our blog at http://www.womenkillingitauthorsfestival.wordpress.com or visit us on Facebook at Women Killing It Crime Writer' Festival.

Here's the schedule and our fabulous line-up:

Friday, September 1st, 7 p.m. – The Mysterious Affair at Picton
The Lipson Room, upstairs at Books & Co., 289 Main St. Picton
Meet all nine of our celebrated crime writing authors up front and personal in a riotous evening of "table-hopping". Each author has five minutes to tell one table all about her book, then it's time for the next author! Ticket price $30 includes nibbles and a $5 coupon good for your favourite author's book! Wine by donation.
With Mary Jane Maffini, Susanna Kearsley, Nazneen Sheikh, Elizabeth J. Duncan, Melodie Campbell, R.J. Harlick, Barbara Fradkin, Maureen Jennings and Robin Timmerman. Moderated by Lynn Pickering.


Saturday, September 2nd, 2 p.m. – Murder at the Vicarage
Macaulay Heritage Park, 35 Church Street, Picton
Join our four writers of light mystery and romantic suspense in a sumptuous Victorian tea at Macaulay House, one of Picton's finest heritage houses, once the home of Rev. William Macaulay and now restored to authentic 1850's style. Tickets $30, includes all refreshments.
With Susanna Kearsley, Melodie Campbell, Elizabeth J. Duncan and Mary Jane Maffini. Moderated by Janet Kellough.



Saturday, September 2nd, 8 p.m. – Appointment with Death (and Dessert)
The Lipson Room, upstairs at Books & Co., 289 Main St. Picton
Join our four authors who write on the darker side as they discuss murder, motives and MO's, in the perfect climax to a murderous weekend! We'll sweeten it up a little though, with scrumptious samples from Miss Lily's Café. Tickets $30 includes desserts. Wine by donation.
With Maureen Jennings, Nazneen Sheikh, R.J. Harlick and Barbara Fradkin, moderated by Christine Renaud and Janet Kellough.


Get tickets for all three main events for $100! Wait a minute, what's this? Can't these women count? Yes, we can – but we have an ulterior motive. That extra $10 will go to Alternatives for Women, the Prince Edward County organization dedicated to assisting women who are the victims of violence and abuse AND you'll get three chances to win a big basket of Prince Edward County products!


SPECIAL BONUS OFFERING:
Saturday, September 2nd, 10 a.m. – The Body in the Library
Picton Library, 208 Main St. Picton
Author Mary Jane Maffini leads the writers' workshop "So You Want to Write a Mystery?" that discusses the finer points of crime writing. Whether you're just getting started or want to polish your manuscript, you'll pick up tips from a pro. Approximately two hours. Tickets $30, proceeds to the Prince Edward County Library system. Limited seating.

Please note: all venues are within walking distance of downtown Picton.





Need accommodation? Want to know more about Prince Edward County? Go to www.prince-edward-county.com We have a multitude of great places to stay, great places to eat and great things to do – oh yes, and we have a lot of wineries! Come for the festival, spend the rest of the weekend exploring!

The Women Killing It Crime Writing Festival is sponsored by Janet Kellough, Vicki Delany and Books & Co., in cooperation with Macaulay Heritage Park and the Prince Edward County Library system.