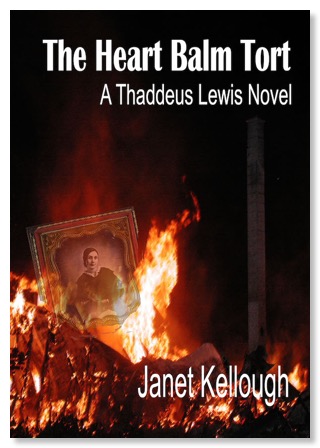 The Heart Balm Tort: A Thaddeus Lewis Novel
Find out what happens to Thaddeus Lewis after "Wishful Seeing" (shortlisted for Crime Writers' of Canada's Arthur Ellis Best Novel Award!)

Still humiliated after his disastrous posting in Cobourg, preacher and sometime detective Thaddeus Lewis is asked to investigate a case of arson and murder that had its beginnings as a simple suit for seduction - a so-called 'heart balm tort". The last person he expects to find in London, Canada West is con-artist and former adversary Clementine Elliott, a woman he last saw many years before - when she was skipping out on her hotel bill. London buzzes with gossip as Thaddeus doggedly pursues evidence of a young man's innocence, but he appears to be getting nowhere until he enlists Clementine's aid - and when Thaddeus's granddaughter Martha is threatened by the killer, Clementine proves to be an unexpected ally in the desperate effort to save her.

What Readers Are Saying about The Heart Balm Tort:
"Great historical background woven into a spellbinding plot. Super,great,fun read."

"So much to love about this book. From the fascinating and amusing 'heart balm tort' law, to the flawless research, I was captivated."

"Janet's easy story telling style brings to life pre-confederation Canada, pulling you into the story.This is a great, can't put down read for a lazy summer day."
Available at
Amazon
, Books & Co. in Picton and as both
Kindle
and
Kobo
ebooks!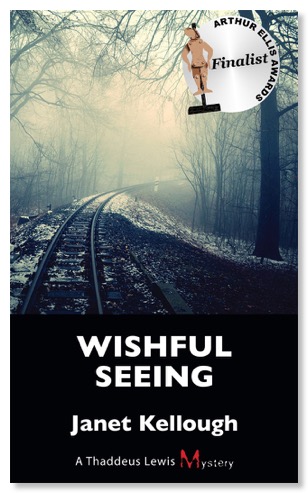 Wishful Seeing - Thaddeus Lewis Mystery # 5


When a dead body is discovered on an isolated island in Rice Lake, and a woman for whom he feels a guilty attraction stands accused of the murder, saddlebag preacher Thaddeus Lewis is sent on a desperate hunt for the truth. Meanwhile, railway mania grips the colony; it is 1853, and everyone expects to get rich from the new Cobourg-Peterborough railway line - some at the expense of others.
Aided by his fifteen-year-old granddaughter and a charming but inexperienced lawyer, Thaddeus defends the woman while privately questioning his motives for doing so. With little hard evidence to go on, the courtroom battle to prove the woman's innocence seems doomed - until a startling discovery gives the case a fighting chance. But the trio's digging uncovers a conspiracy that could threaten the future of the entire district. With the fortunes of the county, and his own future, on the line, Thaddeus struggles against shady characters and his own conscience.

Wishful Seeing was shortlisted for the 2017 Arthur Ellis Award in the Best Novel category.


4th Line Theatre will debut a dramatic adaptation of Wishful Seeing in August 2020!


For more info and links to tickets see https://www.4thlinetheatre.on.ca/




"Wishful Seeing"
A Thaddeus Lewis Mystery
Dundurn Press

Paperback ISBN 978-1-45973-537-8
epub ISBN 978-1-45973-539-2
pdf ISBN 978-1-45973-538-5
$11.99
£6.99



Praise for Wishful Seeing

"Every summer weekend needs a beach read and Wishful Seeing is a good one. It's a grand little historical mystery set in Southern Ontario in the summer of 1853. The saddlebag preacher Thaddeus Lewis and his bright and sassy granddaughter, Martha, are out to solve a murder. A dead woman is found on the appropriately named Spook Island in the middle of Rice Lake. Witnesses saw her alive wearing a vivid blue dress. When that dress turns up in the washtub of Ellen Howell, a local woman whose husband has abandoned her, Thaddeus finds himself drawn to both the case and the woman. But there's far more than a whodunit here. This is the year of the opening of the Cobourg-to-Peterborough railway line and the dead woman may have been a cog in a far larger and more dangerous machine. Great evocation of the era, excellent historical research and Thaddeus and Martha are two to watch."
-Margaret Cannon, The Globe and Mail


"In the fifth book in Kellough's historical mystery series, Thaddeus Lewis, a saddlebag preacher and sometimes sleuth in rural Ontario in the 1850s, finds himself in an awkward situation. For the first time since the death of his beloved wife, Betsy, he guiltily feels an attraction to another woman. Ellen Howell, however, is married, and she and her absconded husband are accused of murder. Thaddeus hires a charming young lawyer to defend her because he says he hates "to see anyone subjected to trial without adequate council" but questions his own motives. This all takes place against the backdrop of the construction of a new section of railway that everyone in the area hopes will make them rich. As he investigates, Thaddeus uncovers a fraudulent scheme that could jeopardize the completion of railway and looks like a possible motive for murder. Kellough's characters are fully realized and believable. Thaddeus is all too human. His granddaughter and housekeeper, Martha, is spunky, smart, and helps Thaddeus solve the case. Kellough masterfully portrays life in pre-Confederation rural Canada and explores sexism and the legal system at the time. A great pick for readers who love a mix of history and mystery."
- Publishers Weekly.


"The fifth Thaddeus Lewis mystery, set in 1853, finds the preacher and sleuth looking into a murder in Rice Like, Ontario. The suspected killer is a woman for whom Thaddeus has a rather inappropriate romantic attraction (for one thing, she's married; for another, she could be a murderer). Much of the charm of the Lewis novels comes from the way they are set in a remote time and place but feel quite familiar. Very loosely based on a real man, Thaddeus Lewis is a wonderful character, and the environment, both landscape and the era itself, is rendered with enough detail to make it seem real but without so much disquisition that it feels like we're reading a history text. And the stories themselves would be entirely at home in contemporary-set mystery novels, which makes the series perfect for readers of historical mysteries and for those who are simply looking for a good yarn, regardless of when its set."
- David Pitt, Booklist


"I've long hoped for a strong, page-turning partnership between history and mystery to emerge. What would this sub-genre look like? A great deal like author, Janet Kellough's Thaddeus Lewis' mysteries, set in the 1830's in Upper Canada. Preacher Lewis was a saddle-bag purveyor of the "Word" who managed to solve the same crimes we see today without the aid of forensic science, has a sound nose for clues and a magnet for finding trouble. A bit like a P.I. with a bible and horse.
Wishful Seeing is story telling set apart from the usual mystery. Kellough uses the historical framework of Upper Canada, Cobourg, Peterborough and the railway boom in this case, to write an action packed story with keen attention to place, thorough investigation, all the while presenting Canadian history for the richly diverse, exciting reality that it was. Living history with all the foibles, criminal greed and pain we see today. Little of our core has changed.
I won't give away the plot: but Preacher Lewis helps a woman accused of murder, a woman he feels an attraction towards. The evidence is circumstantial; the prize is railway greed and here's one hint: it's important to know just how small a person's wardrobe was then and how hand-me-downs take on a whole different perspective.
History is about seeking out our past and I'm delighted to have discovered Wishful Seeing by Janet Kellough. Needless to say my book shop is ordering the first four and I await the next Lewis adventure."
- Don Graves, Canadian Mystery Reviews


"Kellough smartly brings all her trails of intrigue and misunderstanding to a fine finish… suspenseful, complex, satisfying — and entertainingly instructive, as well."
- Joan Barfoot, Brantford Expositor