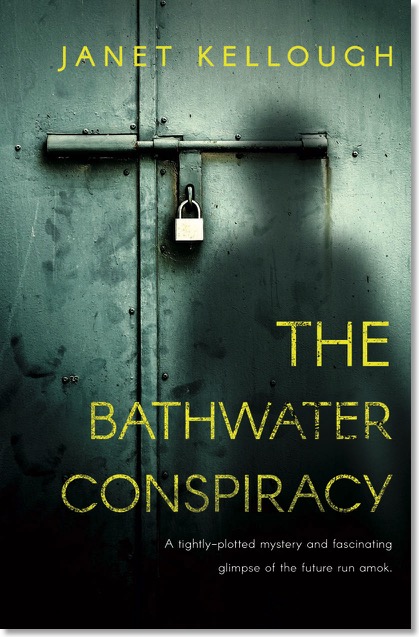 New Release! The Bathwater Conspiracy
Detective Carson "Mac" MacHenry can't figure out why the Darmes are so interested in this one dead girl or why the secretive federal police have rushed the autopsy or why, a few days later, the records of the dead girl's murder have been erased from all official government channels.
Even stranger to the detective is the manner of death - injuries consistent with a violent beating and sexual assault. Crimes rarely seen in Mac's world.
In search of answers to Alfreda Longwell's murder, Mac's off-the-books investigation takes her from the halls of Alfreda's university into the Decayed Area, a post-apocalyptic wasteland at the city's edge - the domain of technophobic religious fundamentalists, scavengers and lunatics. When Mac and her partner Nguyen eventually uncover the details of a secret government project, the conspiracy threatens to topple a government.
Praise For The Bathwater Conspiracy


"The Bathwater Conspiracy is a perfect blend of speculative fiction, modern police procedural, and gripping political intrigue that might have been written by a young Margaret Atwood. Regardless of the time and place, Carson MacHenry, slovenly, rebellious, curious, above all brave, is a detective for the ages. But her age is that of a world very much like ours, with one startling detail that truly makes the reader sit back and think. An original and daring book .
I can not wait to visit this distant, alien, yet oh so familiar world again in MacHenry's next adventure."

-Vicki Delany, national (US) bestselling author of The Sherlock Holmes Bookshop series and The Year Round Christmas Mysteries


"The Bathwater Conspiracy is one of the best SF mysteries I've read in years. A police procedural with the tone of a hard-boiled crime novel, in a post-apocalyptic setting with a twist. The characters are compelling, and inhabit a thoroughly imagined world crisp with details."

-Violette Malan, author of the Dhulyn and Parno Novels



There's a distinct shortage of police procedurals in SF&F but Janet Kellough admirably fills the gap. The Bathwater Conspiracy is the type of book you'll want to read in a single session -- not only for the mystery but for the brilliantly stealth world building.

-Tanya Huff, bestselling author of the Blood Books, the Quarters Series & the Keeper's Chronicles
"The book tosses you into the investigation from page 1, slowing only briefly to bring the reader up to speed on the world once you're already embroiled in it. The setting and characters are very compelling, and serve to make the entire book a great read. If you love mysteries and speculative fiction mashed together, you'll likely enjoy The Bathwater Conspiracy."
-Mad Scientist Journal, Spring 2018 Issue
From EDGE Science Fiction and Fantasy Publishing


Kindle exclusive January 22nd, 2018
ebook everywhere: April 30, 2018
Print Canada: May 7, 2018
Print USA : June 4, 2018