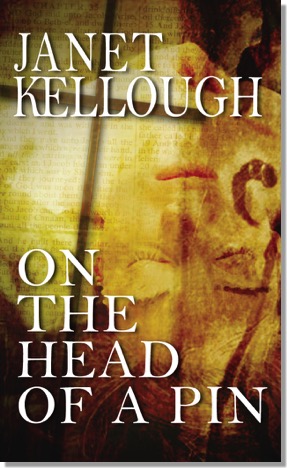 On The Head Of A Pin- Thaddeus Lewis mystery # 1
Thaddeus Lewis, an itinerant "saddlebag" preacher still mourns the mysterious death of his daughter Sarah as he rides to his new posting in Prince Edward County. When a girl in Demorestville dies in much the same way, he realizes that the circumstances point to murder, but in the turmoil following the 1837 Mackenzie Rebellion he can get no one to listen. Convinced there is a serial killer loose in Upper Canada, Lewis must track the culprit across a colony convulsed by dissension, invasion and fear of pirates on the St. Lawrence River. His only clues are the Book of Proverbs and a small painted pin...
"On the Head of a Pin" is loosely based on events related in "The Autobiography of Thaddeus Lewis" published in 1865. Drawing from Eastern Ontario's rich history, a tale of murder spins across the era of Patriot Hunter invasions and Pirate Bill Johnston, the Battle of the Windmill and the battle for responsible government. History and mystery meld in this gripping story of Upper Canadian murder.
A 2009 "Dewey Diva Pick"

"On the Head of a Pin"
A Castle Street Mystery
Dundurn Press
ISBN 978-1-55488-434-6
$11.95
£6.99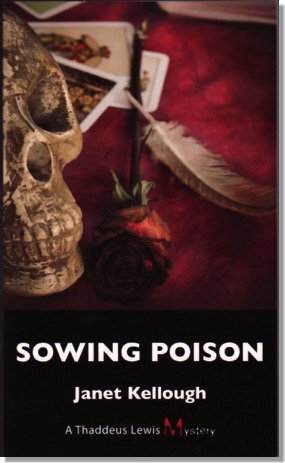 Sowing Poison- Thaddeus Lewis mystery # 2
After tracking down a serial killer in "On the Head of a Pin" Thaddeus Lewis untangles a twisted tale of murder, mystery & mysticism in the lakeside village of Wellington, Prince Edward County.
After an absence of many years, Nathan Elliott returns home - only to disappear again a few days later. Elliott's wife arrives & begins holding seances in her rooms at The Temperance Hotel, an activity Lewis finds offensive. His attempts to discredit her lead him to greed, spite, murder, Edgar Allan Poe and a wild boy who lives in The Great Sand Hills of Wellington.
"Sowing Poison"
A Thaddeus Lewis Mystery
Dundurn Press
ISBN 978-1-4597-0054-3
$11.99

£6.99


More praise for the Thaddeus Lewis Mysteries
"
On the Head of a Pin captivated us from the beginning. Janet did a great job of weaving her characters into a mystery that keeps you turning the pages...This is a four star selection, that will be loved by all mystery fans."

- Suspense Magazine


"This is a very atmospheric debut...that allows Kellough to make good use of the local landmarks and the area's rich and varied history...there are a lot of good ideas and good writing."

-Margaret Cannon
The Globe and Mail


"Kellough's book works on multiple levels; the murder mystery is woven into the larger story of Canada's wild, pre-Confederation. Scenes of Lewis acting out his religious beliefs invite emotional connection, and the novel's final chapters successfully mirror the arc of a Greek tragedy."

- Quill and Quire


"Readers will grow to like Thaddeus Lewis more and more as his character evolves into a thoughtful and sympathetic amateur detective. Kellough skillfully intermingles his adventures with historical facts to give us a real insight into the period and the district."

- Ann Pearson
ReviewingTheEvidence .com


"This is a tale that any fan of history and mystery will enjoy. It's deftly crafted by an imaginative author whose other books you will want to read."

- Anne K. Edwards
New Mystery Reader Magazine


"... it is hard to think of any crime fiction set in Canada's rich historical past. "On the Head of a Pin" by Janet Kellough is doubly welcome, since it is firmly historical and also extremely well done. This is a "good'un", highly recommended."

- www.whodunitcanada.com


"...As she puts the pieces of the crimes together, the author offers interesting insights into the role of religion in early Canada, the rivalry between various denominations and the prevailing distrust of American influence from across the border.
A good read made better by its obvious affection for its subject and the locale in which the action takes place."

-Harrowsmith Country Life


"Must Read - Janet Kellough has a reputation for bringing history to life in her native Prince Edward County. Kellough weaves a tale rich with historical detail and intrigue..."

- Watershed Magazine



"Set amidst the political and religious turmoil of Canada in 1844, Sowing Poison is the second in the Thaddeus Lewis mystery series. Nathan Elliott, the prodigal son of Wellington, returned briefly to Prince Edward County before being reported dead in an accident. The search for Nathan's body brings to town a series of unusual characters, the novelty of mesmerism and a cloud of suspicion that hovers over Nathan's widow. I'm a big fan of the Dundurn mysteries and this is a worthy addition to the series. The historical setting and issues are nicely integrated into the plot and the unorthodox solution is well-devised. I would recommend this novel for anyone who enjoys historical fiction."
-Bryan Prince Bookseller
Staff Pick